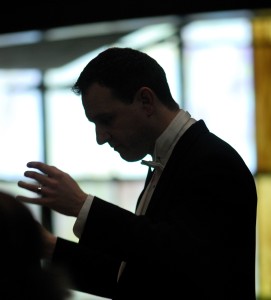 Daniel A. Mahraun is a choral conductor and editor/arranger of music for choirs. As a lyric baritone, he devotes his time to oratorio, song recitals and choral singing, especially of early music. Mahraun earned a Bachelor of Music Education degree from Wartburg College, Master of Music degrees in conducting and performance from the University of Northern Iowa, and a Doctor of Musical Arts degree in the literature and performance of choral music from the University of Colorado at Boulder. He currently serves as choir director at the Lutheran Church of the Holy Trinity, in Kailua-Kona, Hawai'i.
In his most recent academic appointment, Mahraun served as Director of Choral Activities at Minnesota State University Moorhead. In that capacity, he conducted the Concert Choir, Draco Voces Men's Choir and Festival Women's Choir, and taught voice and conducting. His major performances included Britten's Saint Nicolas, Persichetti's Celebrations, and a featured concert at the 2014 North Dakota Music Educators conference.
Previously, he was a full-time member of the St. Paul-based, early music group The Rose Ensemble, and of the Minnesota Chorale, the official chorus of the Minnesota Orchestra. During that time, Mahraun also taught voice at Rosemount and Eastview High Schools in the suburban Twin Cities. He continues to perform occasionally with The Rose Ensemble and can be heard on their most recent CD, A Toast To Prohibition.
For ten years, he was Director of Choral Activities at Bethany College and held the Elmer F. Pierson Distinguished Professorship in Music. As the conductor of the Bethany Choir, he reinvigorated the ensemble's place in the Lutheran choral tradition and expanded its repertoire to include regular performances with instruments and an intentional emphasis on works that celebrate the college's Swedish and Lutheran identity. In addition to his conducting responsibilities, Mahraun taught private voice, choral conducting, voice pedagogy and literature, and aural skills.
During that same time, Mahraun served as Music Director of the Bethany Oratorio Society. The renowned Society's appearances during the annual Messiah Festival of the Arts consist of performances of Handel's Messiah on Palm Sunday and Easter, and Bach's St. Matthew Passion on Good Friday. In his tenure as Music Director, Mahraun expanded the Society's repertoire to include a performance of the complete Messiah in 2004. Through his efforts and training, the Society opened cuts to perform every chorus and the entire Gospel text in the Passion.
He has served as director of the University of Colorado Women's Chorus, which in addition to regular concerts, he prepared for performances of Mahler's Second Symphony with the Jefferson (Colo.) Symphony Orchestra and Orff's Carmina Burana with the Boulder Philharmonic. During service as vocal music director at Clear Lake (Ia.) Junior High School, he developed a new curriculum for the program and expanded their offerings to include a select ensemble. Mahraun was also founder/director of the Clear Lake Area Kantorei.
His major professors in the choral area have included Joan Catoni Conlon, Lawrence Kaptein, Bruce Chamberlain and Paul Torkelson. Mahraun has also done post-doctoral work through summer study with Peter Phillips in Renaissance repertoire and performance practice, and sabbatical research with Kathy Saltzman Romey on Bach's St. Matthew Passion, and with Philip Brunelle in choral techniques and the music of Swedish composers.
An active clinician, Mahraun is in frequent demand with state-, district-, and league-level festivals and contests. He also freely offers his time and effort to individual high school programs.
Mahraun maintains an active interest in the editing and arranging of music for choirs, including music published by Alliance and Morning Star Music.
Inspired by his work with the Bethany Oratorio Society, and by sabbatical study with Bach maestra Kathy Saltzman Romey, Mahraun is currently writing a book that will serve as a guide to the performance of Bach's St. Matthew Passion in English. 
His previous choral singing has included work under the batons of Duain Wolfe, Marin Alsop, Peter Phillips and JanJoost van Elburg. In addition to frequent recitals as a lyric baritone soloist, Mahraun's credits include professional productions of La Bohème with the Sioux City (Ia.) Symphony; The Magic Flute and Don Giovanni with the Quad-City (Ia./Ill.) Mozart Festival under conductor David Rayl. His concert and oratorio performances have included a performance of Mahler's Rückert-Lieder with the College of St. Benedict-St. John University Symphony, as well as performances of Messiah, various Bach cantatas, and Fauré's Requiem. His vocal training has included study with Julie Simson and Jean McDonald, and coaching with Håkan Hagegård, Ghislaine Morgan, and the late Miguel Pinto.
He is a member of the American Choral Directors Association, the Herbert Howells Society, the Association of Lutheran Church Musicians and the National Association of Teachers of Singing.